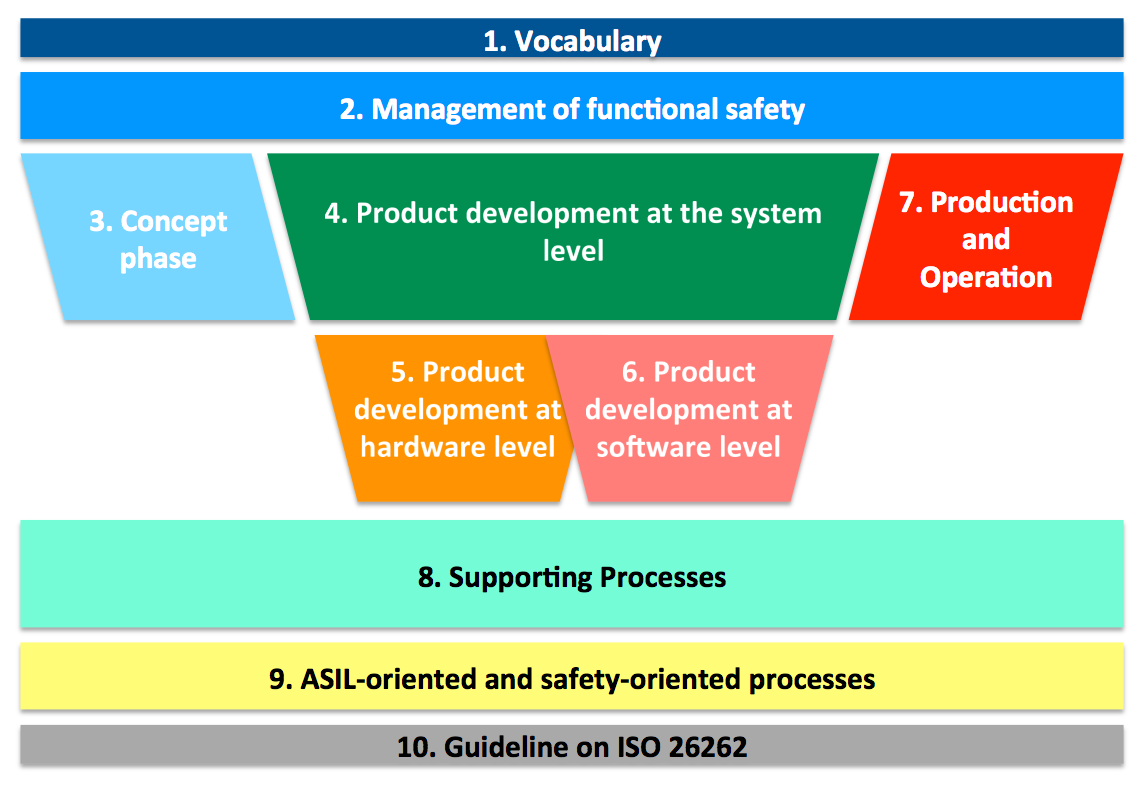 In November 2011 the standard ISO 26262 for functional safety in automotive systems was published. It consists altogether of 10 parts, 9 of them are normative and one – part 10 – represents an additional guideline, e.g. provides examples how to decompose ASILs (Automotive Safety Integrity Levels), how to combine FMEAs and FTAs or of a so-called "proven in use argument".
Some of the parts specify some cross-sectional aspects: part 1 defines the vocabulary used in the ISO 26262, part 2 the management of functional safety in general, part 8 the supporting processes (e.g. configuration or change management, confidence in software tools or the qualification of software or hardware components) and part 9 illustrates the process of ASIL decomposition.
The remaining parts 3 to 7 adress individual steps of the overall product development lifecycle, which is assumed to follow the "standard" vee-chart for the overall system development respectively a double-vee for the parallel hardware development and software development.
The individual process steps to follow are explained with their required inputs, an explanation of the activity itself and the resulting output, the so-called workproduct. Based on this information, a network of flowing information is described by the descriptive texts of the ISO 26262.
Unfortunately the standard does not provide a graphical illustration of these dependencies. That's why in the following we are providing the "Visio-crafted" visualizations that we created in the context of a particular project. Maybe these pictures might help you in your Automotive safety projects.
Please note that we are providing these illustrations "as is", without any guarantee for completeness or correctness. Have fun!
ISO26262-2, Management of functional safety, Part 2-5 to 2-7:
2-5: Overall Safety Management
2-6: Safety management during the concept phase and the product development
2-7: Safety management after the item ́s release for production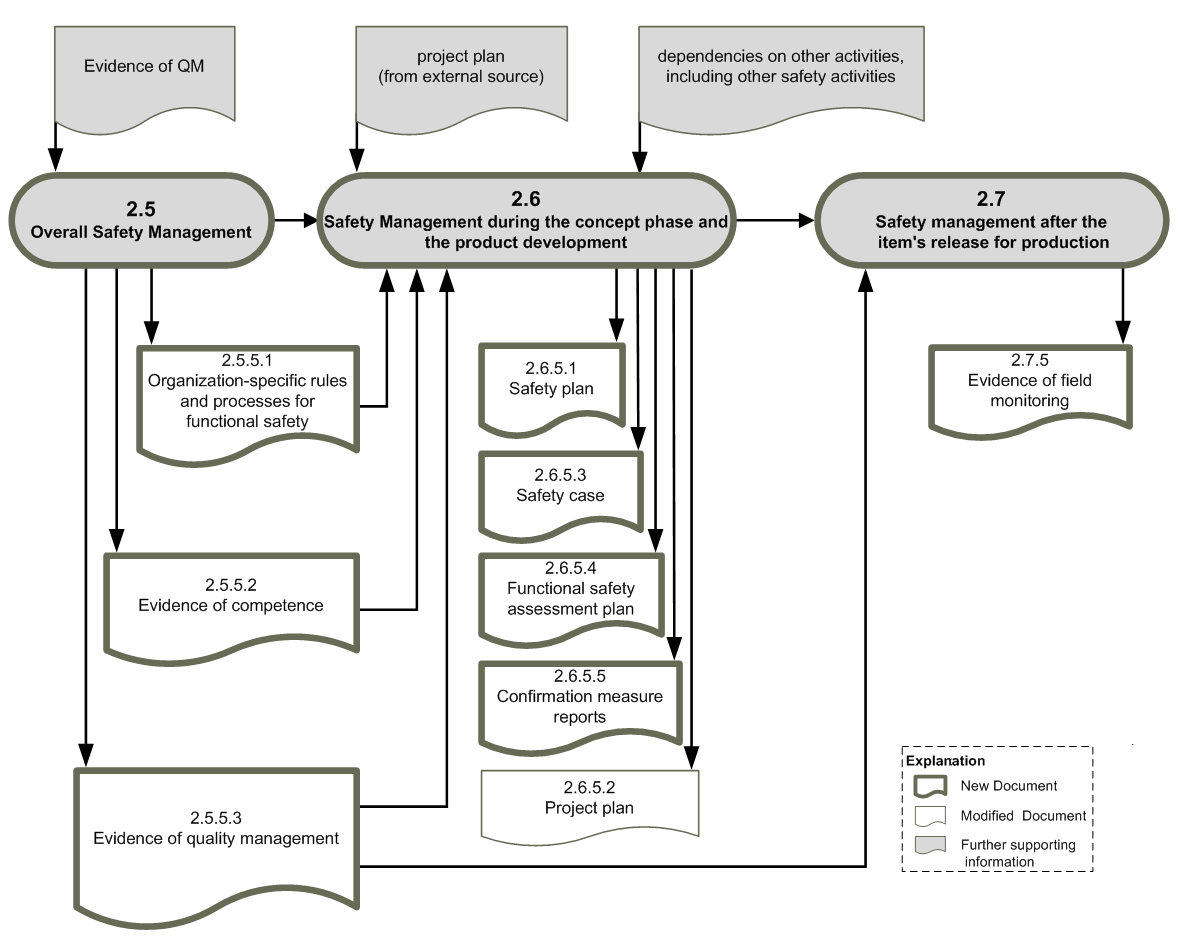 ISO26262-3, Concept phase, Part 3-5 to 3-8:
3-5: Item definition
3-6: Initiation of the safety lifecycle
3-7: Hazard analysis and risk assessment
3-8: Functional safety concept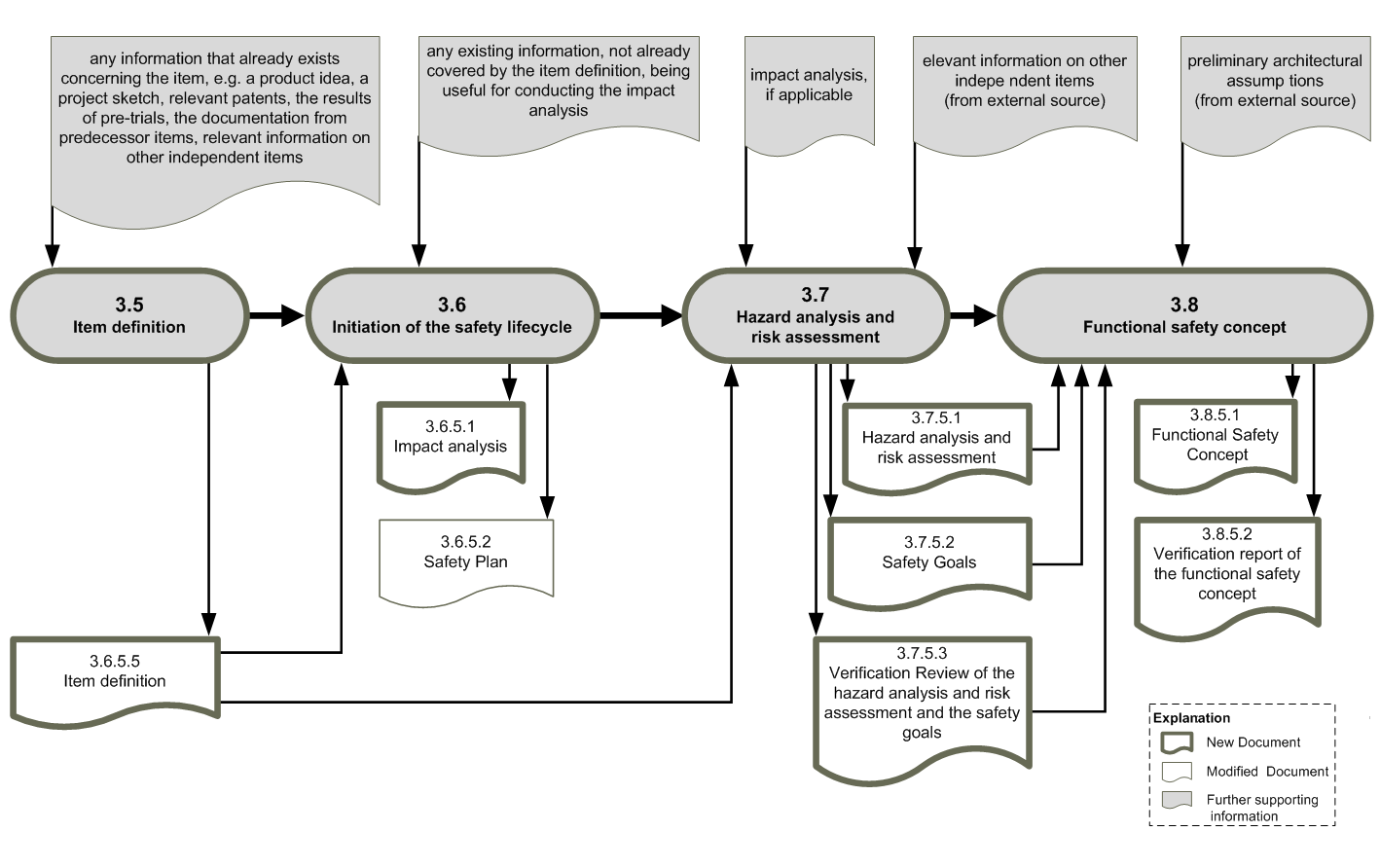 ISO26262-4, Product development at the system level (left wing), Part 4-5 to 4-7:
4-5: Initiation of product development at the system level
4-6: Specification of the technical safety requirements
4-7: System design
ISO26262-4, Product development at the system level (right wing), Part 4-8 to 4-11:
4-8: Item integration and testing
4-9: Safety validation
4-10: Functional safety assessment
4-11: Release for production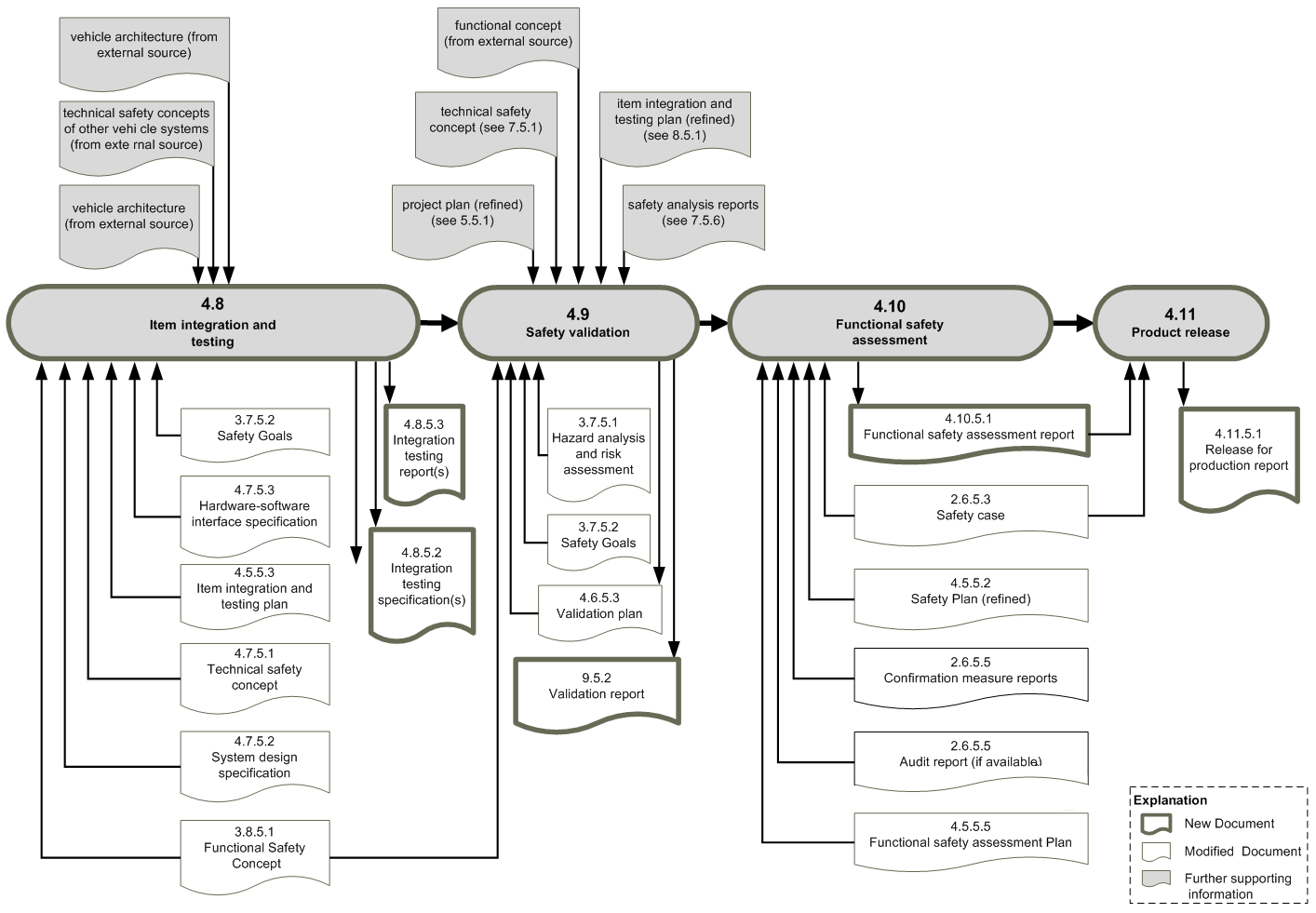 ISO26262-5, Product development at the hardware level, Part 5-5 to 5-10:
5-5: Initiation of product development at the hardware level
5-6: Specification of hardware safety requirements
5-7: Hardware design
5-8: Evaluation of the hardware architectural metrics
5-9: Evaluation of the safety goal violations due to random hardware failures
5-10: Hardware integration and testing
ISO26262-6, Product development at the software level, Part 6-5 to 6-11:
6-5: Initiation of product development at the software level
6-6: Specification of software safety requirements
6-7: Software architectural design
6-8: Software unit design and implementation
6-9: Software unit testing
6-10: Software integration and testing
6-11: Verification of software safety requirements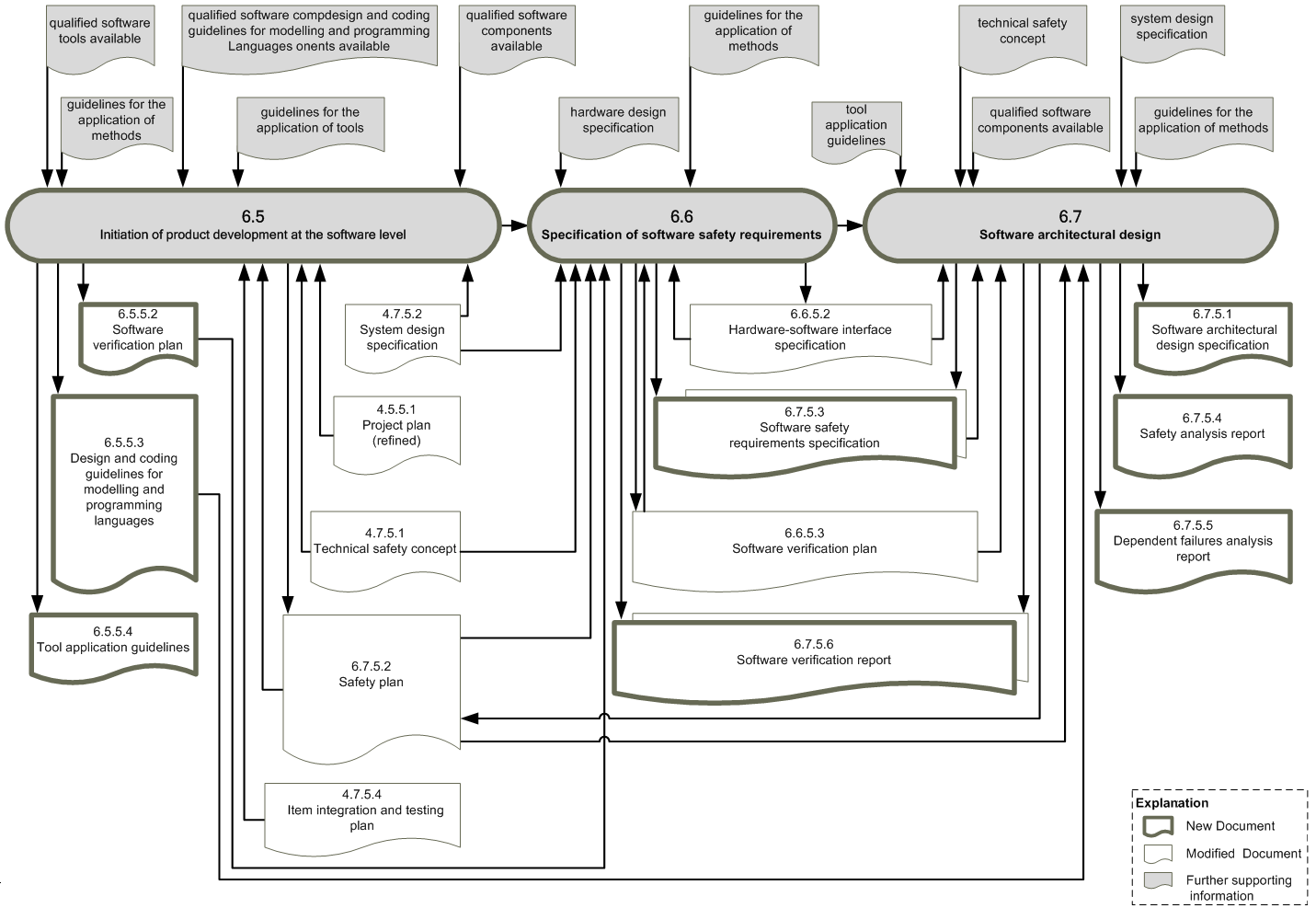 ISO26262-7, Production and operation, Part 7-5 to 7-6:
7-5: Production
7-6: Operation, service (maintenance and repair), and decommissioning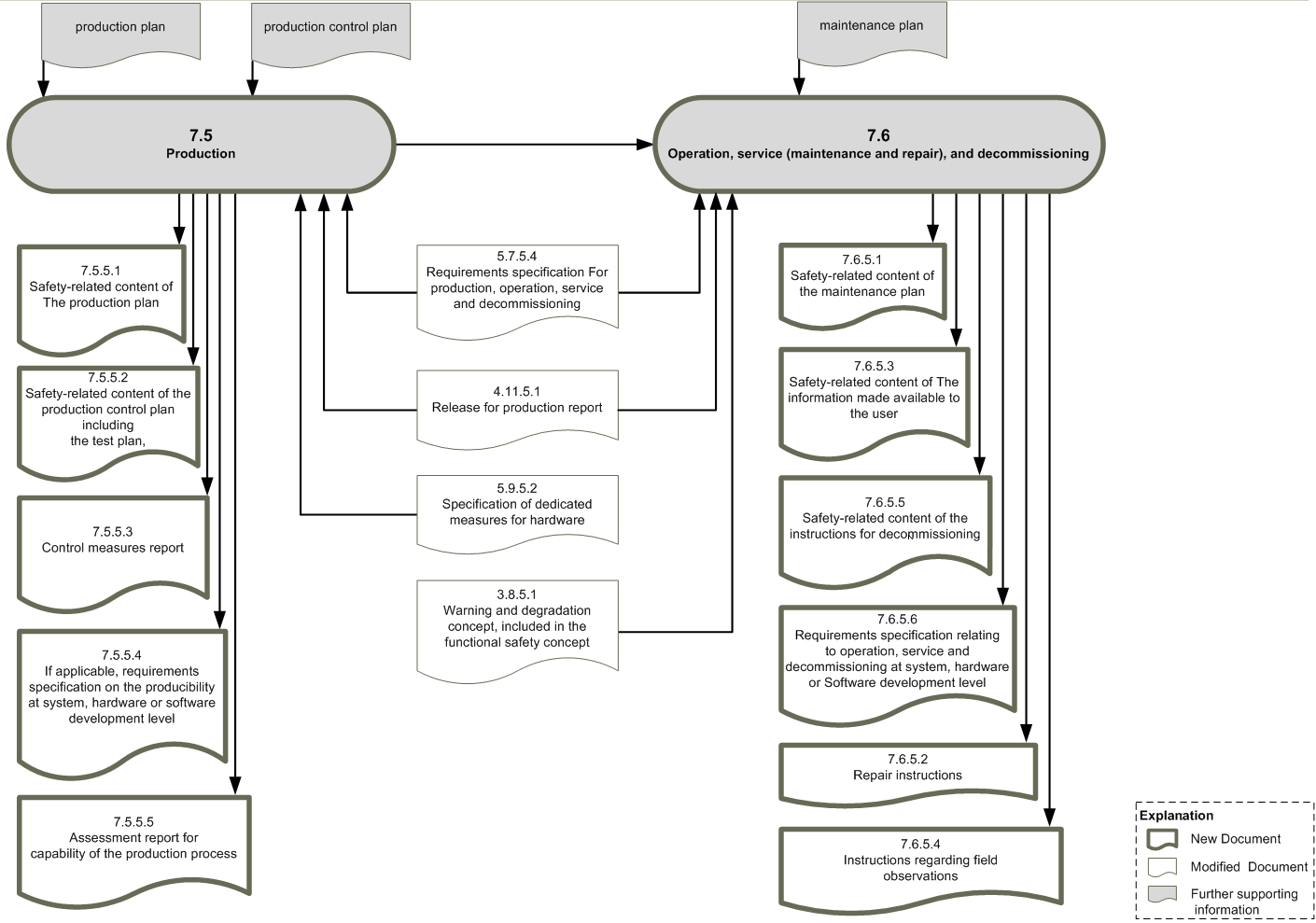 ISO26262-8, Supporting processes, Part 8-5 to 8-14:
8-5: Interfaces within distributed development
8-6: Specification and management of safety requirements
8-7: Configuration management
8-8: Change management
8-9: Verification
8-10: Documentation
8-11: Confidence in the use of software tools
8-12: Qualification of software components
8-13: Qualification of hardware components
8-14: Proven in use argument
ISO26262-9, ASIL-oriented and safety-oriented analyses, Part 9-5 to 9-8:
9-5: Requirements decomposition with respect to ASIL tailoring
9-6: Criteria for coexistence of elements
9-7: Analysis of dependent failures
9-8: Safety analyses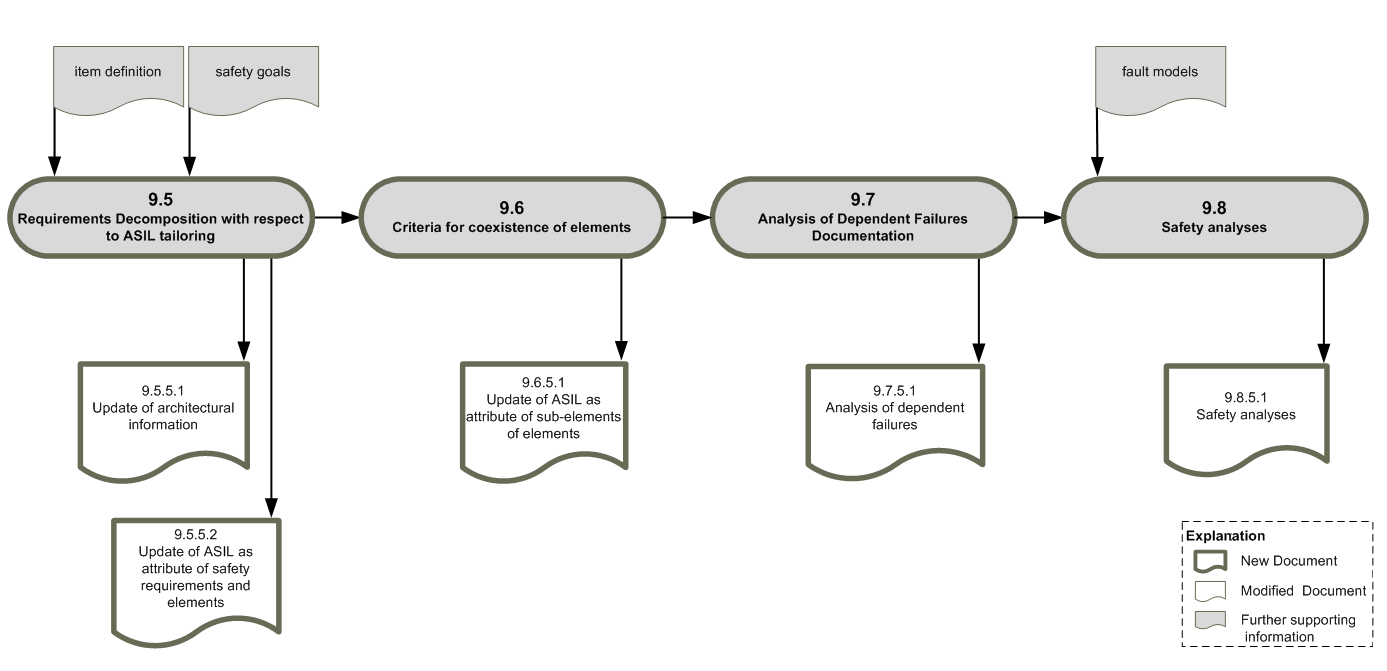 Download all diagrams in 1 pdf-file here!